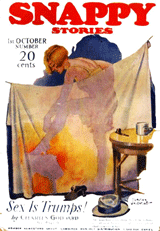 Those who follow the publishing world intently (which means basically, the people in publishing and journalism, and maybe a bookseller or two) already know that the Pulitzer prize for fiction was not awarded this year. The three-person jury passed their three nominated books to the Pulitzer board, who then failed to rally behind a single winner and opted not to give the award this year.
I like to imagine that the reason for their decision was really the fact that the whole committee had stayed up late reading Honk Honk, My Darling, and didn't have time to plow through David Foster Wallace's salute to the boredom in an IRS office. Such delusions keep me alive like Nick Fury and his Infinity Formula. Please don't deny me my lifeblood!
So I spoke on the subject at the Paper Machete, my newest fave reading series in Chicago that tries to attack the big stories in the news every week. The MP3 for the performance is below. If you'd like to hear the entire show each week, you can subscribe to it at iTunes or catch individual performances at WBEZ.org.